Here you will learn spoken English course online in Urdu which you can also free download in PDF format. The purpose of this course of Learn English in Urdu is to make easier for you to understand the basics of spoken English because when you read in Urdu it will be easier then reading in English and you will learn more. Well; speaking means talking in English where you have to use your correct tenses, form of verb, part of speech and vocabulary words. This is known as an official language worldwide and every field of life is concerned with it. One who can speak, write and listen English is more preferable then of those who are not familiar with speaking English language. So first of all we just have to learn basics of English language course, and then we should be acquiring with use of this material in our daily life when we are talking, reading or writing. You are suggested that after reading this page you must make your practice so that you can learn routine sentences in English. So keep on reading this post for Spoken English course online in Urdu free download in PDF.
Spoken English Course Online In Urdu Free Download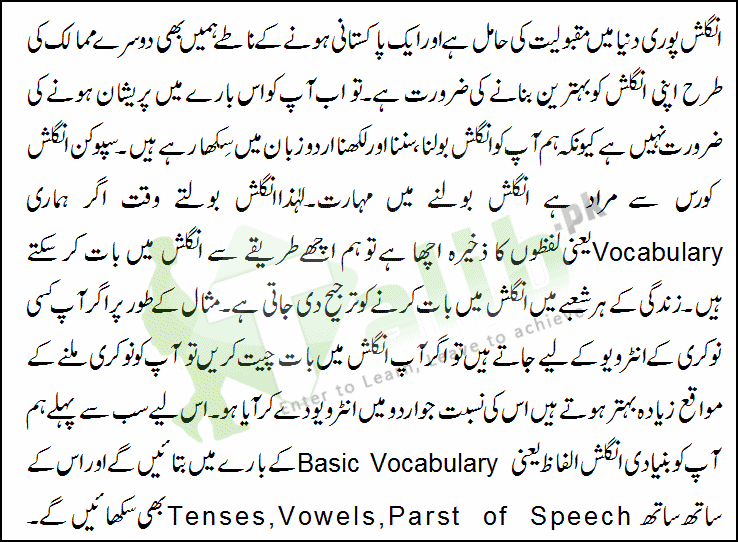 What to Learn?
The very first lesson of spoken English classes is your vocabulary and then you have to be familiar with tenses and after that other things like parts of speech, vowels and daily routine words. Below of this passage you will learn English Spoken Course in Urdu.
Start Chapter Wise Spoken English Course Online In Urdu
So these are the lessons of spoken English course in Urdu. You just have to click on the links given above and a new tab will open that will provide you definitions, types and details of each course. I can hope now that you have learned all about this course and this page provide you better assistance for learning English language course in Urdu that is national language of Pakistan and a thing written in Urdu is more understand able for us. In case you have any further confusion or query in your mind relating to this post you can ask your question or send your comment in below given comment box.
Save